Address and Telephone Number
Korea Institute of Science and Technology (KIST)
Hwarangno 14-gil 5
Seongbuk-gu, Seoul, 136-791, Republic of Korea
Telephone: +82-2-958-5114 Fax: +82-2-958-5471
Address in Korean: (우: 136-791) 서울특별시 성북구 화랑로 14길 5
Subway station nearby KIST(north gate) is Sangwolgok station Line #6.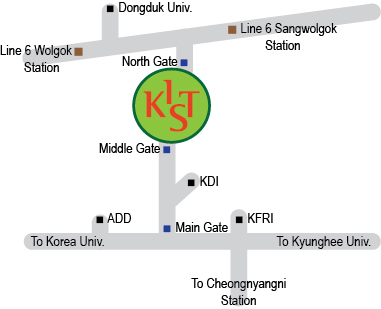 ISASC-2 will be held at the Convention Hall, International Cooperation Bldg. of KIST.
Walking Time: North gate to convention hall 15 min; Middle gate to convention hall 4 min; Main gate to middle gate 15 min.
You can take off taxi at middle gate or north gate. Taxi cannot pass inside of KIST.
You can drive into KIST and parking is allowed at guest parking lots. But the guest parking spaces are limited, we strongly recommend using public transportation.
Transportation to KIST from International Airport
Airport Railroad Express (AREX)

Airport limousine buses leave regularly from the clearly marked stops outside the terminal building to designated stops in Seoul. Unfortunately, there is no route to get directly to KIST. Take the route number 6101, and please take off at Holiday Inn Seongbuk and take a taxi to KIST (North gate). The bus fare can be paid either in cash or with a credit card at the bus ticket booths. You can also pay the fare in cash when you get on the bus. Symposium hall is closer from the middle gate than the north gate of KIST.
Route number 6101 (Incheon Airport -- Gimpo Airport -- Dobong, Seongbuk route) Detailed Information of #6101
Platforms at Incheon Airport: 3B and 10A (You can take the bus at both stops.)
Platform at Gimpo Airport: #7
Intervals: 15~25 min.
Fare: 14,000 won from Incheon Airport; 7,000 won from Gimpo Airport
Bus Stops of Incheon Airport Terminal (3B & 10A stop)
Bus stops of Gimpo Airport Terminal (#7 stop)
Route of Airport Limousine Bus #6101 and Holiday Inn Stop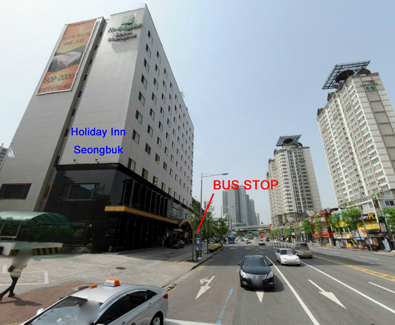 Airport Railroad (AREX) + Subway
1. Buy a ticket to Sangwolgok Station at the airport station. Tickets can be purchased at the ticketing machines or at the ticket office.
2. Board the train and transfer to Subway Line No. 6 (bound to Bonghwasan) at Gongdeok Station.
3. Get off at Sangwolgok (KIST) Station. Exit the subway station through Exit 4.
4. Walk straight about 100 meters and turn left at the small street leading to KIST's north gate.
*Fare: 4,250 won from Incheon Airport and 1,550 won from Gimpo Airport.
By Taxi (Easiest option but expensive)
Taxis are conveniently located just outside the terminal building. Taxi fare operates on both of distance and time, and the passenger will also be responsible for the cost of highway tolls. There are several types of taxi, such as standard, deluxe, and call van. The cost will vary depending on traffic conditions and type of taxi, but generally runs about 70.000~90,000 won from Incheon airport to KIST. We recommend you get out of airport via Airport Railroad or Limousine, and then take a taxi in downtown of Seoul.
For the taxi driver:
(우: 136-791) 서울특별시 성북구 화랑로 14길 5
North gate: 월곡역과 상월곡역 사이 하월곡삼거리 우회전 » KIST 북문에서 내려주세요.
Middle gate: 홍릉 국방연구원과 산림과학원 사이 입구로 진입하여 KIST 중문에서 내려주세요.